Lucite Jewelry: Identifying Varieties or Types
Bakelite and Catalin are thermoset plastic brand names.
This is a fabulous explanation of Lucite types. Full credit goes to
poodlearts
on Ebay.
Lucite is the queen of diversity,
appearing in many forms, colors and styles in jewelry from the 1940's on, although it was most popular during the '40's and '50's. It is an acrylic resin, and one type of thermoset plastic (Bakelite is another, although Bakelite is a phenol formaldehye resin). A brief aside here to clear up a point - the term 'thermoset' does NOT refer to a specific form or style of plastic; it is a broad-based term referring to any plastic that, once heated and formed, cannot be melted down and reformed.

And so, the purpose here is to illustrate a variety of the forms of lucite that you might come across. Although clear in its original state, like the apple pendant above, lucite can be tinted virtually any color, in ranges from transparent to opaque, with a few interesting variations along the way.
The Basics: Solid-Color Lucite -
Solid colors are used for many purposes; white lucite can look like milk glass in a pair of earrings; black lucite can be used like onyx; many pieces have been carved or molded to add interest. Pictured is a navy bangle with carved accents, a bright yellow bangle, a pair of blue earrings with a molded pattern, and a necklace with solid-color turquoise beads.
Moonglow Lucite -
Probably one of the most popular forms of lucite, Moonglow pieces look as if lit from within, and come in a complete range of colors, as well as being used in almost all forms of jewelry - from beads to bangles to insets in earrings, brooches and necklaces. The first picture is a pair of simple lilac-purple clipback button earrings; the other photos show an assortment of colors and sizes of beads.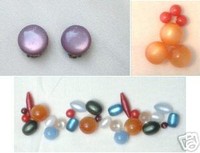 Confetti Lucite - Confetti Lucite encompasses a wide range of variations, all basically a transparent form of lucite with chips or glitter encased. The first illustration is a classic blue confetti lucite button; the second is a red glitter-encased lucite pendant. The third is a brooch set with a classic example of an opal lucite cabachon.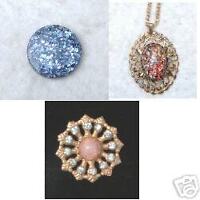 Granite Lucite - A beautiful variation, granite lucite is normally opaque, with 'chunks' or bits of lucite in varying colors that emulate the look of granite - but in a wide variety of colors. elow shows a cuff bracelet with a green granite lucite cabachon, and an interesting white variation with blue and orange in a pair of earrings from Japan.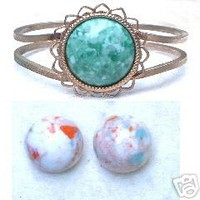 Embedded Lucite
This form usually uses clear lucite over embedded objects - small seashells, flowers, rhinestones, whatever the artists could come up with. The example below is a pair of earrings with tiny flowers embedded under clear lucite.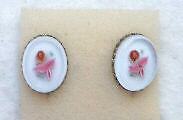 Molded Lucite - Actually, this term probably covers most lucite pieces. However, I am using it here with jewelry that uses multiple pieces. These pieces are often referred to as 'thermoset', which is why I've included them here. These molded pieces may use any of the varieties shown above, and moonglow lucite is one of the most popular forms, especially in earrings and necklaces. Shown below are several pairs of earrings that use a variety of colors and shapes.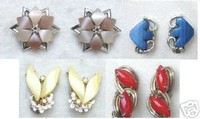 Other Variations - These are many other variations I've come across, although they are less common than those covered above. A few are illustrated below - the first is a necklace with 'marbled' beads that look almost like unakite in coloring. The turquoise cabachons are a combination of granite lucite and webbing. The pearls are actually two varieties; the smaller pearls are a pearlescent lucite, while the larger baroque pearls have a pearl coating over lucite. And finally, the blue beads combine marbling with moonglow lucite - a striking combination!.